Congratulations to the young women of the Blackberry 4-H Club for earning the Herdsmanship Award at the Minnesota State 4-H Horse Show!
Submitted
Herdsmanship Award
Itasca County 4-H members at the 2013 MN 4-H State Horse Show receive their Herdsmanship Award: from left, Katie Adams, Justine Blake, Annie Crotteau, Liesi Francisco, Katie Warner.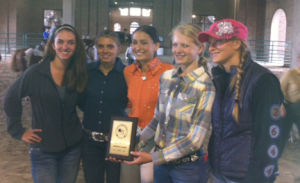 Although 4-H trips to state events are earned individually, it takes real team work to assure success for county participants attending the Minnesota State 4-H Horse Show. This annual event took place Sept. 13-16 at the Minnesota State Fairgrounds, and is the largest youth horse show in the state with over 700 4-H youth participating. Members compete in performance, showmanship, trail, and gaming classes, as well as exhibiting horse training achievements. 4-H exhibitors qualified for the state show by earning a blue ribbon at the Itasca County Fair 4-H Horse Show and meeting other criteria.
As with all 4-H project work, preparation and participation provides life skills and learning experiences for 4-H Horse Project members, their families and leaders. Working as a team improves each exhibitor's chance of success by having the help needed to prepare their mounts and attire as they attempt to meet the often confusing schedule of the show. It also allows a county to be more competitive in Herdsmanship, which evaluates, by county, the attention to detail given to the 4-H'ers horses, stalls, and public displays. The Itasca County team placed first in the Small County Division which will allow them to secure some of the best quality stalls for next year's team of exhibitors.
Itasca County was able to send 5 4-H participants, all from Blackberry 4-H Club:
Katie Adams Key Race gr. 8 PA; Jmp Figure 8 gr. 8 10th; Barrels gr. 8 9th; Poles gr. 8 PA
Justine Blake Key Race gr. 8 PA; Jmp Figure 8 gr. 8 PA; Barrels gr. 8 PA; Poles gr. 8 PA
Annie Crotteau Hunt Seat Equit. gr. l 1 PA; Hunt Seat Pleasure gr.l 1 PA; West. Hmanship. gr. 11 PA; Western Pleasure gr. 11 7th; West. Smanship gr. 11 PA Trail gr. 10-11 PA
Liesi Francisco Hunt Seat Equit. gr. 8 1st; Hunt Seat Pleasure gr. 8 4th; West. Hmanship gr. 8 4th; Western Pleasure gr. 8 4th; West. Smanship gr. 8 2nd; Trail gr. 8-9 PA; Earned the Jr. High Point Performance Award (grades 6-8)
Katie Warner Hunt Seat Equit. gr. 11 4th; Hunt Seat Pleasure gr. 11 PA; West Hmanship gr. 11 4th; Western Pleasure gr. 11 8th; West Smanship gr. 11 PA; Grand Entry Rider