At its core, the Pathway is about all students having what they need to ensure a healthy future – regardless of their background, economic status or geographic location. Project Read, the Grand Rapids Area Library and Invest Early are ardent supporters of the Pathway goals, and remind us that reading skills play a vital role in a healthy future – and that books are readily accessible to all.
This story appearing in the Grand Rapids Herald Review…
Posted: Friday, October 24, 2014 1:34 pm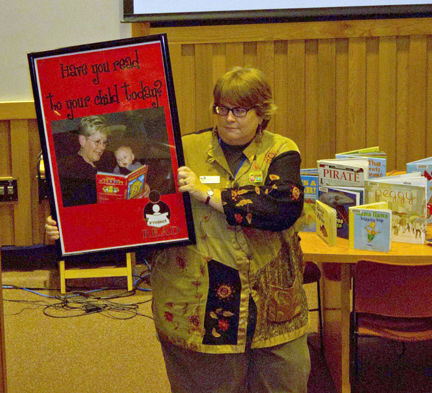 Project READ
Tracy Kampa
"We wanted images about reading to your child to be as well-known as the 'Got Milk?' posters." Those inspiring words opened the October 2014 Project READ Summit. Thanks to the support of the Blandin Foundation and the United Way, Grand Rapids has a model program in Project READ. A program that not only educates families about the importance of reading to children, but one that actually puts books in kids' hands, and one that is beginning to get statewide recognition.
The mission of Project READ is to get the whole community behind a common goal – ALL area children will be ready to read when they enter school. One way to reach that goal is the Community Summit, which brings together community members from all walks of life to support and promote literacy. This year's summit brought two known bibliophiles to speak in the Blandin Foundation auditorium. Tracy Kampa, from the Grand Rapids Area Library, spoke on ways to support and encourage young readers, while Darla Beaver of Invest Early shared the importance of language in academic success.
"People who read better, do better," stated Tracy Kampa at the beginning of her keynote speech. She shared that studies report a 30 million word gap between children in families at or below the poverty line and those whose parents are in a professional education. "Children were not as well prepared, because they weren't given as many words," she continued.
So how does one give a child more words? The answer is simple, surround your children with books and with the pleasure they can get from books. Kampa provided a number of strategies to arm children with words:
Make books a part of the routine.
Pull kids into a story, get them involved in the story.
Let your kids pick their own books.
Make books available whenever your child has downtime.
Find books that play to your child strengths.
Help your child journal and teach them that words are important.
Of course, parents and families don't have to reach those goals on their own. Kampa reminded the audience that's what their local library is for.
Darla Beaver of Invest Early, echoed the importance of giving children words. "We have the ability to change people's life by improving their language." Language development is the foundation skill, all later learning is built upon this skill, she continued. And the primary way to help children learn language all comes down to talking and reading, it doesn't need to be specialists. "That's why books are so vital."
Project READ is an initiative of Itasca Area Schools Collaborative Community Education. To learn more about the programs and educational opportunities available through Community Education go to www.getlearning.org. To learn more about Project READ visit www.projectread.net.